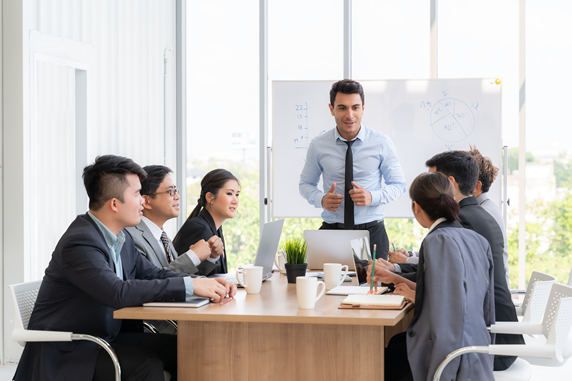 Features of Our Services
We offer practical language programs including those for TOEIC, presentation skills and negotiations.
Our instructors offer training empathetically when face-to-face with students, as we employ instructors with rich experience in American and Japanese companies and who have strived to acquire native-level English capabilities while being engaged in English training in Japan for a long time. They are well-versed in understanding the weaknesses in English abilities of Japanese learners.
We propose English programs that meet the needs of customers. Please feel free to contact us.
We can also arrange Skype lessons for those who are busy and residing in remote locations.
You are probably familiar with the following situations…
We consider TOEIC Scores or English communication capabilities as a requirement for promotion for our employees
We would like to improve skills for speaking at meetings or teleconferences.
We would like to develop staff who can play major roles in global business.
I want to acquire English communication skills required to be top management.
We need to communicate with overseas branches or local legal entities or overseas staff from within the companies in English

Customized Programs by Client
We provide optimum programs in line with your needs including long/short-term intensive courses, long-distance courses using emails and web camera.
We will never coerce you to take unnecessary courses so feel free to contact us.
Course Example
Training Program by Target and Objective
Business English
Develop practical English capabilities required for business
Business Skills
Reinforcing training of skills including presentation, meetings and

writing.

TOEIC
For increasing scores for TOEIC
Prospective Employees/New Employees/All Employees
To raise up English capabilities of employees and encourage personal development
Executives
Develop English capabilities, knowledge suited for company directors and senior management
Employees to be dispatched to overseas assignment
Within a short period of time prior to overseas assignment, develop practical English capabilities so as to hit the ground running right after arriving at the overseas assignment
A Proven Track Record
Training Programs for Executive Candidates (Intensive Business English, Negotiation/Debating/Discussion Skills)
Practical English for Production Workers (Shop Workers)
Seminars on Practices for Learning English (With Training Methods for Interpreters / How to Effectively Use the Internet)
Service Personnel Training for a French Restaurant
TOEIC Programs at a National University and a Community College
Intensive English Courses for New Employees
… and many others
FAQ for English Training for Corporations
I have received a sudden assignment for long-term business trip overseas. Can you provide an intensive course?

Yes, we can offer a training program meeting your requests and can provide an intensive training program. Please feel free to contact us.
I am not representing a company, and would like to receive a personal lesson. Is it possible?

As we provide English training programs only for companies, not individuals, we apologize that we cannot accommodate your request.
Could you provide training programs other than in Tokyo?

We basically provide regular courses nearby Tokyo. In other regions, we mainly provide intensive courses dispatching instructors from Tokyo, but it is possible to provide a training program in Kansai areas and others depending on the availability of instructors.